Social Media
SSSniperWolf: Age, Bio & Youtube Success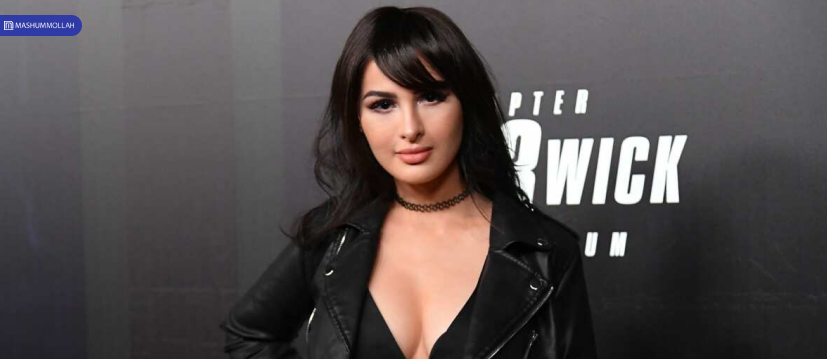 | | |
| --- | --- |
| Name | Alia Marie Shelesh |
| Date Of Birth | October 22, 1992 |
| YouTube Subscribers | 34.1M |
| Nationality | American |
| Height | 5'3" |
SSSniperWolf is a famous social media star, and Youtuber based in the U.S. Her love for gaming at a very young age is partially responsible for her YouTube success. The story behind SSSniperWolf purchasing her first gaming system is ridiculous.
The biography she posted online says that her father had to buy a Sony PlayStation so that she and her brother would stop fighting with each other. This started her journey to become a gamer. SSSniperWolf is a huge fan of Metal Gear Solid (most gamers must recognize) this popular game. SSSniperWolf also loves to play Call of Duty.
She is famous mostly because of her Call of Duty Gameplays. Now, she has 34.1M and 3.4k videos and funny content that people love to watch. Here is a complete life story of SSSniperWolf and her journey to fame.
Who Is SSSniperWolf?
Alia Marie Shelesh or SSSniperWolf or popular Youtube star, social media influencer, and more. The famous American Influencer Alia is known for her gaming videos and the different reaction videos she posts on her YouTube channel.
As a hardcore fan of Metal Gear, Shelesh created the name for her YouTube channel, SSSniperWolf. Currently, she has 34.1M subscribers on her channel named SSSniperWolf. Her other channel, called Little Lia, has around 3.7 million subscribers.
SSSniperWolf also has proved to be popular on many different social media. Her Instagram account has a massive 5.4 million followers and a substantial amount of followers on Twitter and Facebook.
Early Life & Education
Shelesh is of Greek and Turkish descent, and she was born on October 22, 1992, in England. She moved to America with her family at the age of 6. She has been a gamer from a very early age. Also, thanks to her family being supportive (of gaming), she has improved her gaming skills and become a pro at playing Sony PlayStation games.
She got her first PlayStation because she used to get into fights with her brother. So her father decided to buy her a PlayStation.
Here Is What She Said In An Interview –
"When I was younger, my brother and I would get into a lot of fights, so my dad bought us a PlayStation in the hopes that it would calm the waters. It worked — we'd play everything from Metal Gear to Digimon World."
She used to go to a Local High School in Liverpool in the UK. Later, She was transferred from Glendale Community College to the university to continue her education in pharmacy. However, she could not continue her education in pharmacy. Soon, she changed her career to nursing. However, with a passion for gaming and YouTube at the same time, it was difficult for her to continue studying. So, she decided to discontinue her course and keep making videos on YouTube.
Youtube Journey
SSSniperWolf, or Alia, started her YouTube channel back in 2013. Most of her initial YouTube gameplay videos are about Call of Duty. Since 2017, she has been creating content around vlogging and posting reaction videos. Yes, Shelesh still posts videos related to gaming. But content related to gaming has slowed down a bit in recent times.
Although Call of Duty and Metal Gear are her favourite games, she also plays games such as – Fortnite, Overwatch, Far Cry, Destiny, Grand Theft Auto, Halo, and The Division. She is also a fan of first-person shooting games and takes part in top celebrity gaming tournaments.
Little Lia
After Shelesh found fame and recognition on her first channel, she moved on to create a new channel named Little Lia in 2014. She was creating videos related to D.I.Y. video advice, creating home goods, making recipes, and crafts. Initially a gamer and a gameplay video creator, SSSniperWolf became a favourite to housewives and homemakers. The fame and success in her second YouTube channel made her the YouTube star she was trying to become.
Compared to other gamers and YouTubers in the gaming community, Shelesh is completely different and unique. Not only is she a game player, but she also has good looks and charms that many of her followers admire. SSSNiperWolf is a number one hula hooper. These skills collectively help her build the kind of community and base of followers she wants on YouTube.
SSSniperWolf Net Worth
SSSniperWolf has a net worth of $16 million. Not only has she been earning from Google Adsense, but SSSniperWolf has also been earning from different brand collaborations. She has been doing brand collaborations with some of the top gaming brands like Ubisoft, E.A., Activision, & Disney. She is undoubtedly one of the top female gaming influencers in the world.
Personal Life
Alia's dating life has not been so secretive. She started dating her fellow YouTube star, Evan Sausage, back in 2013. They started dating when Evan, her Youtuber boyfriend, started texting her. Soon, they started to communicate over the phone and Skype.
The relationship escalated with the couple buying their house together. For both of them, the relationship was not working out. In May 2016, Alia revealed that she had broken up with her boyfriend, Evan Sausage. She still continues to live in her cosy and beautiful house in Vegas.
The house is extremely cosy and beautiful and spans 5,000 square feet of land. The house has three bedrooms and four bathrooms. The home has great features like a wine room, pocket walls, a theatre, an outdoor kitchen, and an infinity pool.
Bottom Line
SSSniperwolf is an exceptional YouTuber with great videos related to gaming, cosplaying, reactions, and more. Both her primary and secondary YouTube channels are doing great. Despite so many controversies regarding her YouTube career, Alia still keeps thriving as a YouTuber.
Did this article help? If you have any queries related to this topic, let us know through the comment section. You can also share your feedback regarding the same. Thank you.
Read Also: