Social Media
Cocomelon: Channel History, Rebranding, Acquisition, & Success
Most US toddlers are now watching one youtube channel in particular – Cocomelon. Parents tend to turn on their tablets or smartphone and open Youtube to let their children see different cartoons and cartoonish videos. Cocomelon took advantage of this tendency and is now one of the highest subscribed youtube channels in the US.
We initially thought of putting up a story on how successful the youtube channel of Cocomelon is. Then we learned that they have been doing equally well on other platforms like Spotify, Netflix, and more.
They have racked up more view time than Squid Game and Bridgerton combined. A market measurement firm Nielsen said that Cocomeln had more than 3.6 billion views on the platform. So, how did it become one of the most subscribed Youtube channels? Here is a small sketch of Cocomelon and its success.
What Is Cocomelon?
Cocomelon – nursery rhyme is a platform consisting of many rhymes and songs for kids. The songs and the rhymes are played over 3D animated cartoons and are founded on a family with three kids and their pets. Yes, it is a channel about a family of 3D animated characters with new persons coming to the episodes from time to time.
In short, it is an entertaining channel for kids and toddlers. They have lots of nursery rhymes and songs that kids enjoy watching. According to the data from 2021, they were the third or the fourth fastest-growing youtube channel in terms of subscribers.
They are also the second fastest-growing channel in terms of view time. They are the fourth fastest-growing channel in terms of viewership. And cocomelon gets 2 to 3 million subscribers every month and 2 to 4 million viewers on their videos every month.
Cocomelon was acquired by a British company called Moonbug Entertainment. But an American company named Treasure Studio is in charge of maintaining the channel. Not just Youtube. They are all over the place. Treasure Studio also added the content of Cocomelon on the platforms like Netflix, Hulu, and Roku.
The Cocomelon Channel also ranked number one on Reelgood's list of top shows on Netflix in 2020.
Cocomelon: History
Cocomelon was a product from a couple. Jay Jeon and his wife started to create videos and publish them on Youtube. The journey started on September 1, 2006. The initial name of the channel was ThatsMEonTV (known on YouTube as Checkgate).
The first video Jay and his wife uploaded was the alphabet song they created. This alphabet song had two versions of the alphabet. The first video was uploaded in September 2006.
No, at first, they were not consistent. They took nine months before posting another video on the channel. Nine months later, THatsMEonTV uploaded a video called "Learning ABC Alphabet – Letter "K" – game." During this time, they were only creating sporadic 2D educational content for kids and were including animals in their videos.
However, they thought of rebranding the channel and naming it ABCkidTV in 2013. This was when they started focusing on rhymes and songs on the channel. However, after 2016, the platform started to upload 2D and 3D animation videos to attract children. Most of the animated characters had animals aside from different human characters.
Cocomelon: The Final Rebranding
ABCkidTV was rebranded again On August 18, 2018, and came to be known as COcomelon. After this rebranding, the channel was getting massive fame and more subscribers. The Youtube algorithm was also in favour of Cocomelon, and they were racking up more views and subscribers.
Even in 2023, they are one of the leading channels on the Youtube platform. They are still growing and attracting more kids their way. Currently, Cocomelon is rivalling other famous corporate-level channels like T-Series and SET India. They have 160 million subscribers, and the number is still growing.
Moonbug Entertainment Acquires Cocomelon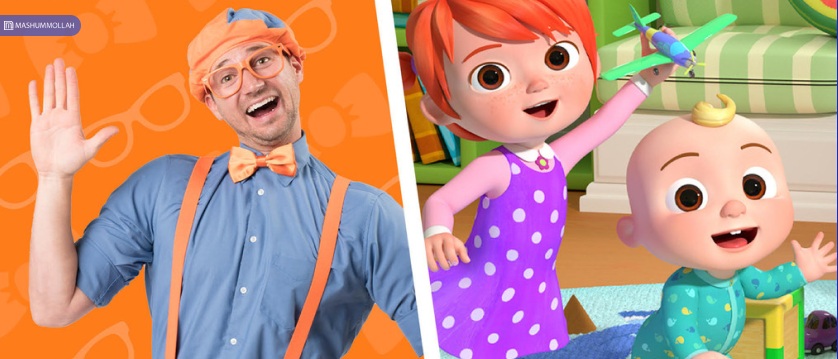 A popular entertainment company named Moonbug Entertainment acquired Cocomelon on July 30, 2020. Moonbug also owns another Youtube channel for kids called Blippi and Little Baby Bum.
They also mentioned that they were going to distribute the channel in different languages globally. This decision caused the creation of multiple COcomelon channels in different languages. Starting in 2020, they are also on Netflix.
Cocomelon Vs Pewdiepie
Famous Youtuber and creator PewDiePie created his first Youtube video on Cocomelon on June 1, 2020. He discussed that COocmelon might become the highest subscribed and viewed channel on Youtube. This is when he also showed his interest in teaming up with T-Series to compete with Cocomelon.
PewDiePie wanted to become as famous as Cocomelon, so he thought of creating parodies of Cocomelon's video. Felix/PewDiePie then created intros like Cocomelon and put his voice to make it sound funny. Felix also created a diss track on Cocomelon called Coco.
This battle did not drag on for more than a year. On April 25, 2021, COcomelon finally defeated PewDiePie with more subscribers. Now they rank as the third most subscribed channel on Youtube.
Cocomelon's Yearly Turnover & Net Worth
Yes, this channel is for kids. But the turnover COcomelon was able to generate is not child's play. The creator of the channel, Jay Jeon, is now a millionaire. The platform has been making millions every year.
Here Is A Chart Of Their Yearly Income –
| | |
| --- | --- |
| Year | Annual Income |
| 2012 | $1 Million |
| 2013 | $5 Million |
| 2014 | $16 Million |
| 2015 | $27 Million |
| 2016 | $42 Million |
| 2017 | $71 Million |
| 2018 | $98 Million |
| 2019 | $140 Million |
| 2020 | $169 Million |
| 2023 | $202 Million |
The channel has been extremely popular, and now they have a net worth of $790 million in 2023. Yes, the track is now acquired by Moonbug Entertainment. But the channel's founder Jay Jeon also has a net worth of $139 Million.
Bottom Line
Seeing how a kid's rhyme channel would generate a million-dollar business is funny and inspiring. Cocomelon still remains one of the top subscribed channels on Youtube and has been competing with the likes of MrBeast and other channels. But, why is cocomelon bad? Many child development experts say this channel is hyper-stimulating and cause children to be addicted. So, children should supposedly watch it with a limitation.
I hope you have found the information you were looking for on Cocomelon. Please share your views on this article with Us. You can take it to us through the comment section.
Read Also: