Social Media
Brent Rivera: Biography Career, Age, Net Worth
| | |
| --- | --- |
| Full Name | Brent Rivera |
| Date Of Birth | January 9 1998 |
| Age | 25 |
| Profession | Youtuber |
| Subscribers | 27.3 millions |
| Nationality | American |
| Ethnicity | Latino |
Youtube has provided a great platform for lots of creative and entertaining creative individuals. Brent Rivera is one of them. Have you ever thought of starting your YouTube journey at 10? Then, take it to a global level where people from different countries know you and watch your content.
Brent Rivera has made it possible. He started his YouTube channel at a very early age. He has been creating prank, funny, and comedic scenes that millions of people love to watch.
The Youtuber, social media star, and internet personality has racked up millions of dollars in net worth through his creative and entertaining content. Now, he is one of the most subscribed American YouTubers; and he also has a massive base of followers around the world. Go through this article to learn about the life and successes of Brent Rivera.
Who Is Brent Rivera?
Brent Rivera is a social media influencer, actor, YouTube star, and entertainer. Born in Huntington Beach, California, this 90s kid has been doing incredible work as a YouTuber. What's interesting about him is that he is a tenured YouTube creator with over a decade of experience on the platform.
People usually love him for all the prank and comedy short videos he posts on YouTube. More so, Brent has a monthly income of $620k from YouTube. He does not earn from only one source of income. Many of his wealth and success are due to different brand endorsements, deals, merchandise, and more.
Brent has partnered with some of the biggest brands in different industries. He has done some of the brand endorsements with companies like Starbucks, Coca-Cola, and iPhone X.
Early Life & Education
Brent Rivera was born on January 9, 1998. He is from Huntington Beach, California. He was born into a family with three other siblings. Brent was born to a firefighter, John Rivera (his father), and a teacher, Laura Rivera (his mother). All of Brent's siblings do something as a creator.
His siblings are Lexi Rivera, Brice Rivera, and Balke Rivera. All of them are connected to the world of the internet in one way or the other. Lexi is also a YouTuber and a social media personality. Brice, Brent's brother, is also a social media influencer. But Blake Rivera is a Hockey Player.
As a young boy, Brent Rivera used to go to the Huntington Beach High School. Brent completed his high school from this school. As a school student, he was also into ice hockey. Then, he went to the California State University based in Long Beach.
Youtube & Career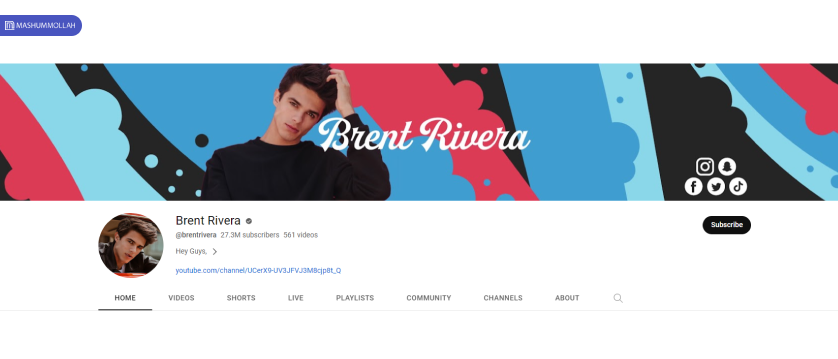 When he was very Young, Brent started liking surfing, ice hockey, etc. As he grew up, he started getting engrossed in the internet and trying different things.
At the age of 15, Brent found himself on the app called Vine. There, he succeeded as a YouTube creator and posted comedic videos and content that entertained him. He had found his niche in content early; hence, he figured out what to do with platforms like YouTube.
Brent is a very confident young man, and his hard work and talents back up his confidence. He started his journey as a Youtuber in 2009 and did not have to look back after that. Different entertainment portals reveal that he has amassed $16 million in net worth thanks to his YouTube channel.
When he started his internet journey through the Vine app in 2013, people could easily see the X factor in his content and personality. He became one of the most famous YouTube creators.
Currently, his channel boasts 27.3 million subscribers, and there are 561 videos uploaded on the channel. Most of the videos he creates have a funny and comedic tone. Also, they are around 15 minutes longer.
Instagram, Vine, TV Shows
Aside from his YouTube channel or Instagram, Brent has also worked in the Alexander IRL TV series. In that TV show, he played the character called Alexander. He also has been working in different shows. Survive a Break-Up and Light as a Feather are some of the shows that Brent has worked on.
He has been showing his skills as an actor and a director for a long time. His videography was praised in 2013 and was one of the most talked about Viners.
Personal Life
Brent's life is full of his family, siblings, and friends. We have already discussed his family. So, let's move to his dating life. Rumours have it that Brent has been dating Morgan Justus, a model. But recently, he is seen to be hanging out with his friend Pierson. Apart from that, not much is available on the internet on Brent Rivera's personal life.
Brent Rivera's Net Worth
Brent Rivera usually charges his clients around $120k+ for brand promotions. So, it is natural for him to rack up a massive net worth. He earns around $4.11 million per year. If you are interested in the amount he earns, go through this section here.
His YouTube channel gets 68.46 million views every month, and 2.28 million is the count for their daily amount of views. According to the amount someone can earn from YouTube views, Brent Rivera's yearly income is around $4.11 million annually.
But he also earns a considerable amount from his followership on Instagram and brand endorsements. According to data available as of now, Brent Rivera has a net worth of $16 million.
Final Words
The YouTube world has been flourishing for a long time, and American Youtubers are taking the helm in some of the niche content. Brent Rivera is one of the pioneer YouTube content creators who has been entertaining his audience for a long time.
It is no wonder that he has a base of followers that he enjoys. However, this success just did not come to pass. He has been creating content for 10 years and perhaps is one of the fewest creators who has made YouTube their long-term passion and profession.
Whether you are new to YouTube or have been creating content for some time, you must take a few things from these famous creators as a source of inspiration.
Read Also: