SEO
Best WordPress SEO Plugins
The best way to boost your SEO rankings and speed up your website is to find a good host. However, there is a lot that goes into it including the keywords you target for blog posts and product pages. The other thing is to check the size of your image files and if your content is readable. It explains why you need the best WordPress SEO plugins. If not, you will get stuck as you try to fight against the competition.
Remember most of your competitors are already using the above tools. The good thing is that the market has so many WordPress SEO plugins. You can even find some of them free of charge.
All you need to do is choose the best WordPress SEO plugin depending on your needs. Some third-party stats will help you bring up powerful starts, backlink information, and keyword rankings.
The list below has some of the powerful SEO tools and plugins. Make sure you read our guide section on how to choose the best WordPress SEO plugins. It is a proven strategy of driving high-quality traffic to your website.
The reason for the above argument is that SEO is quite confusing. Even people owning websites for a long time will confirm that they face a few challenges. It is not easy to find posts and pages that have a high potential.
You also need to conduct a complete SEO audit, re-organize the structure of your website, and fix broken links. However, if you have the right SEO plugins and know how to use them, you will succeed in search engine visibility.
Here is a list of 11 Best WordPress SEO Plugins that we will evaluate in this article
1. Yoast SEO
Yoast SEO comes out as the best WordPress SEO plugin for most brands. The tool has a long list of 5-star ratings from the users. Yoast SEO has impressive updates that continue to wow the SEO world.
It has a gorgeous interface that comes with the most user-friendly options. You can be sure that it will make your product pages and blog posts to stand out in the market.
The other beauty about Yoast SEO is the fact that it has its own website with several premium support options. The forum section has a thriving community and an informative blog to help you learn a lot about SEO.
The other thing you will get is SEO courses for advanced users, intermediaries, and even beginners. The website will also grant you access to Yoast Premium. It has more advanced features such as keyword optimization for 5 keywords on a page.
You will also preview the look of your blog on Facebook and Twitter. You will also get internal link suggestions to send users to other pages on your site. Remember that this is only a small section of the features that the premium option provides.
The premium package of Yoast SEO is quite affordable making it desirable for all the users. If you are on a budget, you will still get access to the free plugin. It beats out most of the other WordPress SEO plugins in the market. You will not regret if you choose Yoast SEO as the tool to help you boost your SEO visibility.
Features of Yoast SEO
Type in the keywords to see how well you optimize on them for your posts and pages
See how your Google search engine results will exactly look like.
Adjust your Meta title and Meta description using this tool to make is keyword rich and more appealing
Complete a readability check on all the pages. You will know whether you need to add elements such us numbered headers or lists or break up paragraphs.
Detects whether you have duplicate content on your post or page
Yoast has great support and resources you can ever think about
Developer updates the plugin after every two weeks
Premium package provides content insights, free support, redirect manager, and ad-free interface on its backend.
2. All in One SEO Pack
The All in One SEO pack plugin is popular and well-known. The tool has over 2 million active WordPress installations. As the name suggests, it is an 'all in one' tool for SEO needs. One thing that makes it the best WordPress SEO plugin is easy to navigate and clean dashboard.
You will get the essential features of this plugin for free. However, you can upgrade to the premium version at a small annual fee.
If you have several websites, you may choose to go for a business license. It allows users to apply the All in One SEO pack on up to ten websites. You can also buy an agency license and use it on a countless number of websites.
After saying all this, if you are a startup or have a basic blog, the free version can serve you perfectly. It is an excellent option for beginners even though so many advanced users are making good use of it.
This plugin is largely similar to Yoast SEO above. The primary difference between these two plugins are the pricing options and their interface. You will get different organizations for different sizes in each of these tools. Indeed, it is one of the best WordPress SEO plugins that you should be using on your website.
Features of All in One SEO Pack
Google AMP support
Advanced canonical URLs
XML Sitemap support
Redirecting attachment pages to the parent post
RSS sitemap
Google Analytics support
Inbuilt API and hence other themes/plugins access and extend their functionality
org markup
Notifies search engines like Bing and Google about changes on the website
Image SML sitemap submission to Google and Bing to improve image SEO
SEO support on custom post types
Built nonce security in the All in One SEO Pack
Only free plugin to offer SEO integration for e-commerce websites
Optimizes Google for the search engine automatically
After installing, it works out of the box hence ideal for beginners
Translated in 57 languages
Avoids typical duplication of content on the WordPress blog
Compatibility with so many other plugins
100% compatible with 57 languages
Set any meta keyword and meta description and override any title
Advanced users can fine-tune all things to optimize SEO
3. Broken Link Checker
SEO is not all about filling your posts and pages with several number of keywords. Also, it is not also about making your content readable. One way to go above the completion is to go through your website and remove all the broken links.
Broken links are the ones that result in a 404-page error. When Google comes across such a result, it sees it as a less desirable experience for the users. Remember, no user will want to land on an empty page.
The only challenge is that sifting through all your content to identify one broken link can take you several hours or days. The secret is using the broken link checker plugin. It will do all this work for you by scanning through your pages and posts.
It will bring to light all the broken links within a few minutes. The list will have all the links in question and you can go ahead to remove all of them. The other option is changing the broken links to become better references.
If this plugin is active on your website, it will search your website and notify you when there is a broken link. If you keep the plugin active on your website, it will search and notify you whenever your links break.
After correcting the links, the list will be empty. Google will also notice that you are good at maintaining your website.
This plugin has a constant scanning functionality. Therefore, it is a wise move to enable it so that it can go through your links and fix them in batches. From here, you can now disable the plugin till a further date. The action will make sure that the plugin does not interfere with the performance of your website.
Features of Broken Link Checker
No need to go to your page or a post to change the broken link. The plugin's primary page does all the link modifications.
Has an option to search and filter links
The plugin also monitors custom fields, comments, and many more in addition to finding broken links in your pages and posts
It also detects missing redirects and images plus anything that will make the search engine look less favorable to your website or confuse a reader.
It has an option to prevent the search engine from following the broken links on your website.
4. Rank Math
Rank Math is one of the leading SEO plugins for any WordPress website. It comes with all that you require to take maximum control of on-page SEO. It is a tool that combines the power of several plugins that you could be using for SEO currently.
It brings everything into a single lightweight plugin that is easy to manage. Rank Math will help you in managing all the on-page SEO for all your pages, posts, and products among other taxonomies.
You will also control the archive, nofollow, and noindex Meta tags. Generally, you will control all the taxonomies on any page or post. These descriptions make Rank Math the best WordPress SEO plugin in the market.
It integrates with the Google Search Console tightly to bring the essential information in the WordPress admin dashboard. It includes information such as the keywords you are ranking for, the number of search impressions your website gets, etc. You will get all these statistics in a single glance.
In addition to this, Rank Math also has a built-in 404 monitor, XML sitemaps, Local SEO, Rich Snippets, and Redirections. You will also get internal link building recommendations and automated image SEO.
Features of Rank Math
A one-stop-shop for all SEO needs
Clean user interface with easy to understand options
XML module is bundled with Rank Math and also automatically pings the search engine to modify your post
Every product, page, or post runs through the SEO Analysis solution basing on 40 factors
Breadcrumbs are part of the plugin and you shouldn't rely on another plugin for this purpose.
Option for automatically adding the title and alt tags to images that don't have them
Twitter Card and Open Graph support is bundled
Has a redirection module to point out the 44044 errors to something that is useful to your website
Support for Rich Snippets with an option to choose six types of snippets. These include Local Business, Video, Events, Recipes, products, Articles, and many more.
5. The SEO Framework
The SEO Framework plugin is a perfect tool if you are looking for a fast and lightweight solution. It is a plugin that does not come with any upsells or ads. The plugin strips some of the whistles and bells you may not require.
It will help you so much if you want to maintain a high speed for your website. You will also spend less time on SEO articles that seem to be confusing.
The SEO Framework is a perfect alternative to Yoast. It has so much to do with the SEO ratings' visual nature. It also has highly flexible options to help in targeting keywords like the synonyms and the slightly off words.
You will use a few tabs to control the SEO settings of your post. One of them utilizes a colored scale to shoe the closeness of your post to being search-engine ready.
The scale will instantly tell you where you need to put more work in your SEO efforts. It is better than some of the cluttered varieties of Yoast.
This plugin has a perfect interface for beginners. Also, the API is open for advanced users who want to get their hands dirty. This plugin started as a project in the WPMUDEV community.
However, eventually, the developer released it to the masses for free. SEO Framework is an all-inclusive plugin that offers more advances functionalities with the assistance of extensions.
Some of them include the comment caching for spammers, incognito mode, and SEO monitoring and uptime. The others are article enhancement, an AMP integration, and local SEO.
Features of The SEO Framework
The SEO framework does not sell anything to the users. It matches most of the features you want in Yoast but you won't pay for the premium features or extensions.
Comment spamming extension eliminates the requirement for an additional plugin
The colored, visual scale/meter offers a user-friendly way of checking whether your post will perform in Google or not.
Has local SEO extension for brands that need to display and set up crucial local business info.
Preconfigures SEO settings hence minimal setup once you install the plugin
Plugin focuses on the subject to encourage a more natural writing style because Google sees synonyms in the search as the same thing.
ShortPixel is a stable, comprehensive, and easy to use WordPress SEO plugin. It is an image compression tool and the creators update it frequently. It is an excellent choice if you want to increase the ranking of your website in SEO.
It will help you to increase your number of visitors and sales by optimizing your PDF and image documents. ShortPixel is a lightweight and easy to use WordPress plugin. Once you install it on your website, you will forget about image optimization.
It will compress all your past PDF documents and images in a single click. It automatically resizes, rescales and optimizes your new images in the background on the fly. The tool is also compatible with any e-commerce plugin, slider, or gallery.
It has a quick demo and you can test it at any time. ShortPixel works perfectly with and dedicated, VPS, cloud, or shared web hosting. The tool also uses very minimal resources in its working.
It optimizes all images on your website including those that are not in your media gallery. These include the ones you add directly through FTP and the Modila and NextGEN options.
You will get both the lossless and lossy compression for most common image types like PDF, GIF, PNG, and JPG files. It also provides glossy JPEG compression for the high-end lossy optimization algorithm. The plugin has a special design for the photography industry.
Image optimization leads to better GTmetrix results or page speed and great user experience.  It also implies more visitors and the best Google PageRank. You can use the plugin to make instant compression testing on your website. You will also compress images to make sure that they meet your desires. It is one of the most popular WordPress plugin with more than 200,000 installations.
Features of ShortPixel
Compress GIF, PNG, and PNG (animated or still) images and PDF documents
No limit for file size
Convert PNG to JPG images automatically into smaller images. Appropriate for large images that are in the PNG format.
Convert JPEG, GIF or PNG for free including the animated ones
Compatibility with WP Retina 2X
No need for extra plugins such as Imsanity
Automatically resizes featured images before optimization with two varied options
Optimize thumbnails together with featured images
Great for photographers
Run the plugin on multiple websites
Bulk optimization of the existing images
Easily test lossless/lossy
Skip already optimization images
Compatible with the WP Engine hosted sites and all major hosting providers
Conversion from CMYK to RGB
Compatible with the watermarking plugins
GDPR compliant
Works with both HTTP and HTTPS websites
Option for de-activating auto-optimization images on upload
Can optimize any images on your website including NextGEN gallery
Images optimized below 5% are bonus
WP stateless, WP offload S3, and WooCommerce compatible
24/7 stellar support from the developers
Free optimization credits
Works perfectly with Foo Gallery, NextGEN galleries among other sliders and galleries
Uses WooCommerce for e-commerce websites and other plugins
7. SEOPress
SEOPress is an All in One SEO freemium SEO plugin for WordPress that has no ads. It is white labeled completely and even the free version has no footprints. The tool is fast, simple, and powerful and allows you to manage Meta and title descriptions for post types, pages, posts, and terms.
You will create HTML, XML sitemaps, use Google Analytics to track your visitors and optimize tags. You can use it to share your content on various social media networks. The free version of SEO also offers content analysis. This helps webmasters in writing well-optimized SEO posts.
It has over 75 hooks that developers can use in setting up the plugin as per their wishes. The premium version of SEOPress extends its functionality further. You can use it for local business SEO.
It also has optimized breadcrumbs for accessibility and SEO. It has easy optimization for downloads and WooCommerce ready.
The Google structured data types here include local business, event, article, and product. You will also get video, course, FAQ, review, and recipe. It has backlinks for integrating with the Majestic third party API.
The V5 Google Page Speed integration will quickly check the quality of your pages. The other functionalities include 404 monitoring and redirections. Lastly, you will get the Google Analytics stats in the WordPress dashboard.
Features of SEOPress
No ads hence the editors will see a Metabox without any reference to the SEOPress. The same case applies to the admin bar.
Allows users to add Google Analytics tracking within seconds. You may include user roles for the tracking, interest reporting and enable marketing. You will also set up custom dimensions, track XLSX, DOCX, PDF, downloads, cross-domain tracking, IP anonymization, and many more.
Easy and quick Twitter Meta tags and the Facebook open graph data.
8. W3 Total Cache
The SEO and performance of your website are inseparable. It is crucial to have a user-friendly and quick site. Search engines such as Google pay a lot of attention to user experience.
W3 Total Cache is the plugin that you need if you wish to enhance the performance of your website. It is one of the best WordPress SEO plugins on the market.
The tool delivers ten times improvement in the overall performance of your website when you configure it fully. You will have Grade A in the improvement of Google Page Speed and Web Page Test. When a website loads fast, it will improve the user experience.
Visitors will arrive fast on your website and stay around long enough. The plugin has several caching options that you may find challenging to configure.
Features of W3 Total Cache
Integrates perfectly with different CDNs such as CloudFront
Compatible with CloudFlare to increase the page loading time significantly
Improves the speed and performance of your website
Compresses and minimizes CSS, HTML, JavaScript and Feeds
9. AMP for WP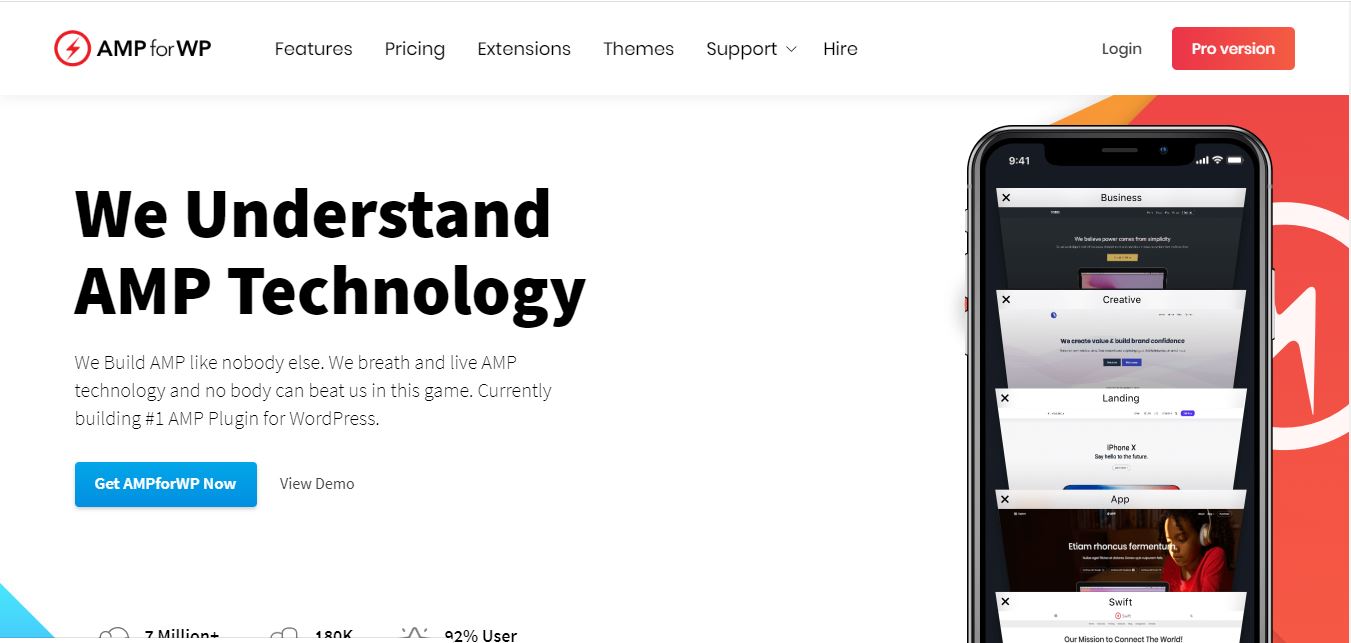 AMP for WP adds the Accelerated Mobile pages functionality for Google automatically to the WordPress site. The implication is that it runs pretty fast for mobile visitors.
More than 50% of the organic visits originate from mobile devices. Therefore, you have to make sure that you reduce the bounce rate and offer the best user experience. All these features send the right signals about your website to Google.
There is no doubt that AMP for WP is among the best WordPress SEO plugins you will get on the market. Google launched the mobile-first indexing strategy in March 2018.
It means that it currently indexes the mobile version of the website in addition to the desktop version. There are so many benefits that will come your way when you choose to use this plugin for your WordPress website. You will find most of them in the features that come with this plugin.
Features of AMP for WP
Integrates AMP to your website automatically
Add the canonical tags so that Google knows your original page
Internally browse AMP pages
Add various content specifically for AMP
Optimize the mobile pages of your website increasing the load speed in comparison to standard web pages
10. Squirrly
SEO Squirry is a great tool for individuals who are not SEO specialists. It lives to the claim by providing a complete package with no complex elements. It generates SEO recommendations in a different way in comparison to the other plugins.
You start by typing in the topic for your article. You also punch in the desired keyword so that as you continue to write your content. It will active a series of green lights on a real-time basis. It is like having an expert whisper in your ears as you continue to write.
Features of Squirrly
Keyword optimization as you continue to write the article. It's easier than Yoast as you have to save the article before seeing results and suggestions.
Has content reports and you can send it to other users in your company.
If you replace the old SEO plugin with the Squirry tool, it will maintain the settings from the previous setup.
The tool analyzes your competitors to find out how you can outrank them
Get progress monitoring weekly with a solid tool to showcase recent tweets on your topics. It is a great way to improve your content.
11. Scheme- All in One Schema Rich Snippets
Rich Snippets represent search elements like images, star rankings and other crucial details that may grab the attention of the user. You will have something that is different from the regular Google search results.
In most cases, Rich Snippets are utilized for blog reviews and e-commerce product page results. Google likes rich snippets because they are not that intrusive. However, they are still in a position to reveal valuable info to the users.
There isn't an inbuilt method that offers rich snippets with WordPress. However, the All in One Scheme Rich Snippets plugin will do all this work for you. The plugin cuts down your search engine results to the most critical elements.
The users will see everything from author avatars, to star ratings to photos. There is no doubt that this tool falls among the best WordPress SEO plugins for your website. You can also check out for the free schema tool.
Features of Scheme- All in One Schema Rich Snippets
Google searches offer visual strictures for the visitors which both Google and the users love.
Supports various forms of content including videos. Recipes, products, people, reviews, and events.
Easy to share search results on Facebook because the right information is compiled already.
It is a lightweight plugin that will give you a lightweight plugin
Buying Guide: How to Choose the Best WordPress SEO Plugins
WordPress is not the most glamorous solution if you are shopping for an out of box platform. What makes it popular among other CMS is the extensive ability to customize with themes and plugins.
Plugins will help your website to have certain functionalities. You will not fail to get a plugin that will help you our regardless of the function you want on your website. If not, the developer can help in designing one for you.
WordPress.org boasts of having more than 40,000 plugins. With these unlimited options, it may be hard to identify the best WordPress SEO plugin. In most cases, there are so many plugins that will meet your needs. This can be tempting to just make you pick any of them.
However, it is crucial to make sure that you are getting the best WordPress SEO plugins. Therefore, you should know how to make the right choice. Here are some of the things that will guide you as you search for the best WordPress SEO plugins.
Evaluate Your Needs
You have to determine what you want to get from the plugin before you begin to shop for one. Such a simple act will give you a plan to help you save money and time.
If you aren't sure of your needs but like a particular feature on your site, you can check from the WordPress plugin checker. It will tell you the most popular WordPress plugins that website owners use. Look for sites that resemble your needs and get the best suggestions for plugins.
WordPress Security
Choosing a plugin that has poor coding comes with so many consequences. Hackers invade 22% of WordPress websites because of the security issues that are within the plugins.
One way to guard against such issues is checking the last time the developer updates the plugin. Choose plugins that have regular updates within the last two months or so. The plugin should also be operated on the most recent version of WordPress.
It will give you an assurance that the developer fixes all the security issues. Hackers use the security holes that are in the old versions of plugins to get their way on your website. The updates will fix any holes that you will identify in the website.
To address the security issues, you need to assess the Changelog of the plugin for the details about the changes in the new version. Therefore, make sure that the plugin guarantees the security of your website against the activities of hackers.
Check the Changelog
You can use the Changelog to confirm whether the website has fixed the security issues. The Changelog of the plugin will also tell you what you will get in the plugin.
The Changelog will inform you of the features that come with every update. High levels of progress in the Changelog implies that the developer pays attention to the needs of the users. It also shows that the developer actively tries to make these plugins better.
It will make sure that you get the features of what you want from the plugin easily. Therefore, avoid any plugin that has minimal progress in its Changelog.
Premium VS Free
When shopping for the best WordPress SEO plugins, you may wonder whether to go for free or premium tools. The free tools will serve you best if you want no monetary commitment from the onset.
Some free plugins will meet your exact needs depending on your expectations. Most of them also allow you to upgrade to the premium version.
However, premium plugins come with so many additional benefits to the users. These plugins maintain a high level of compatibility with the new version of WordPress. They also have additional features that support the customization of your website.
If your major concern is a price, most of these tools tend to be relatively cheap. Since you are supporting the developer, he will try to provide the best service possible. Most of them are tested for security and attract frequent updates.
Plugin Support
Most premium plugins offer full-time support from the staff who work towards making the plugin better. With good support, you can ask any question and get the answers quickly. Free plugins also provide support in the WordPress plugin directory support forum.
The free plugin support can be sufficient for some challenges. However, the support isn't personalized like the one you get for the premium plugins. The support may become invaluable if a security issue arises in the plugin.
Premium plugin support also implies that the developer can log in your website and see the issues that you are facing. You will not get this kind of support if you are using a free plugin.
The Reputation of the Developer of the Plugin
You have to consider the reputation of the developer and the other plugins that they provide. To do this, go through the reviews of the plugins and how frequent users download them.
Developers who have a great reputation and delivers the best products will outshine the other brands. Security, brand reputation, and comprehensive support go hand in hand.
Comparison Tools
If you want to select between two similar plugins, you can do so through the plugin comparison tool. You will see the details of different plugins including last updates, downloads, and ratings.
The thumb of the rule is going for the plugin with the best quality. Quality will take on the popularity, updates, support, compatibility, and popularity of the plugin's developer.
Quality is a great indicator in the plugin and it reflects its value. If there is a green arrow, the quality is better in comparison to the other plugins. It will help you to single out the best WordPress SEO plugins in the market.
The Technical Aspects
There are so many technical elements to check for in any plugin. However, this requires experience, time and knowledge. Here are some of the checks that will help you evaluate the technical elements of the plugin;
1. Run a GTMetric.com check
Check after and before installing the plugin for proper coding. Plugins with poor codes add so many files that slow down the grade and speed of the website. The impact is slowing down the loading times of your website.
2. Use P3 Profiling Plugin
This process will help you to confirm whether the plugin uses a lot of memory. It is a free plugin that you can install o your site. Compare before and after the installation to check whether it consumes a lot of space. However, the measure may not be an accurate indicator of how you are using your memory.
3. Use the Query Monitor Plugin Resource
Compare prior to and after installing the plugin whether the total number of database queries has drastically increased.
4. JavaScript Errors
The other thing that you need to do is checking the browser console for JavaScript errors. Ensure that after you add the plugin, the browser console doesn't display the JavaScript errors.
5. Enable the WP Debug
If you are having a development environment, it will recommend running with the WP debug enabled. When you add a new plugin, it will tell you whether it generates any errors or PHP warnings.
6. Consider Plugin Bundles
Plugin bundles offer several plugins that work together out of the box straight away. It can end up saving you a lot of time and money. Therefore, you should not shop around for all the best WordPress plugins from various companies and bring them together.
Besides, plugins that are in a bundle originate from a single source. It implies that these plugins work perfectly together. If they don't for some reason, you will only be going to a single source for assistance.
The best WordPress SEO plugins largely depends on the individual website. If you love several plugins from one developer, check whether the brand offers a bundle. It is cheaper to purchase plugins in a bundle than doing so individually. You will also get highly efficient services from the bundles.
You need to put several things into consideration and do a lot of research to get the best WordPress SEO plugins.  It depends on the number of people who visit your website and its scope. You cannot avoid plugins if you want to shine in the search engine.
Conclusion
If you have a website, you should make sure that you prioritize SEO. It is something that you cannot overlook if you want to shine. The best WordPress SEO plugins will make sure that you don't waste time on strategies that don't work.
If you own a WordPress site, there are limitless plugins that you can use. However, it is good to focus on the ones that we have covered in this article. Some of these plugins encompass a broad range of SEO elements while others support specific SEO features.
All in all, you will find this article to be useful for your needs. What works well for one person will not work perfectly for another.
Read Also: